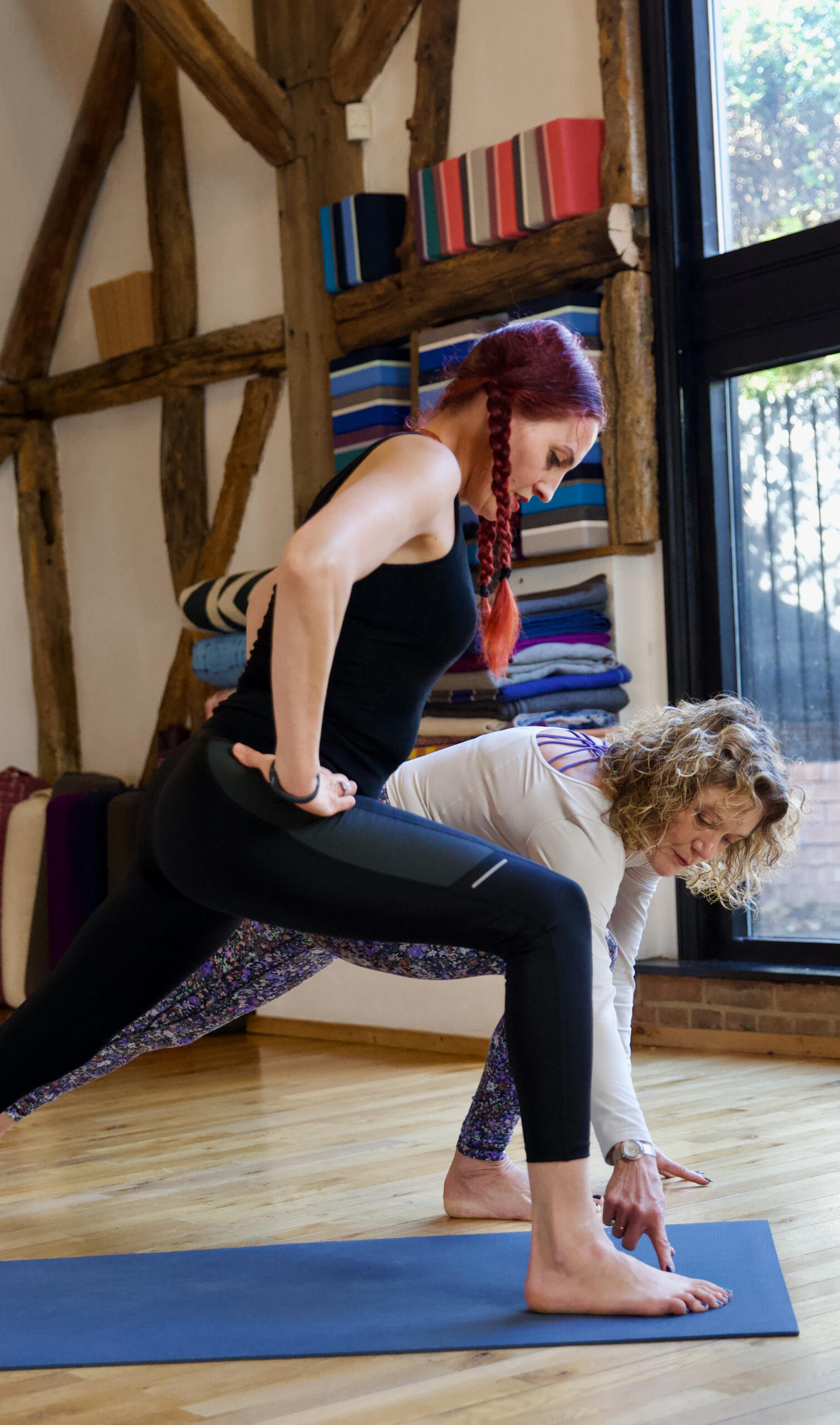 Andrea teaches personalised individual lessons, short courses and small groups in her beautiful home studio, as well as a range of classes in clubs in Cambridge.

Andrea helps clients with yoga therapy for back care and rehabilitation from injury. She also offers classes focused on relieving stress and anxiety. Andrea teaches everything from dynamic flow classes to restorative yoga.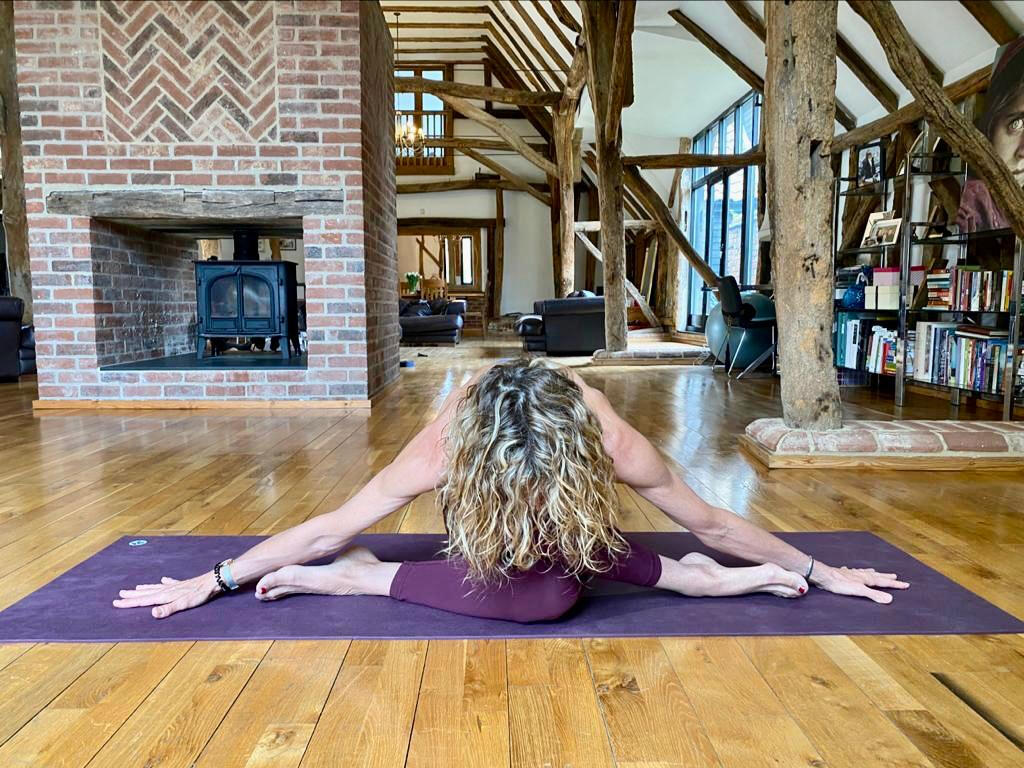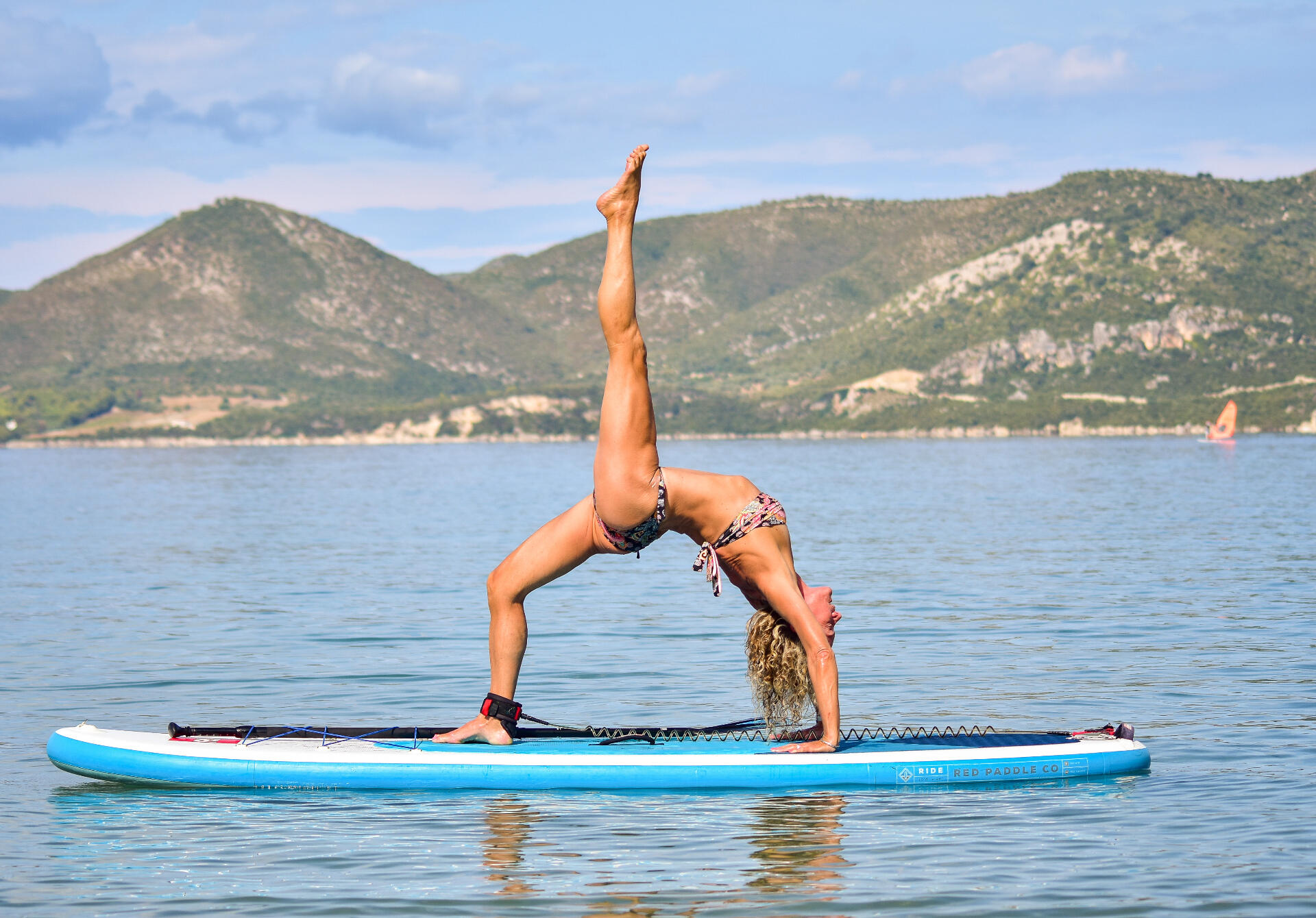 about
Andrea qualified to teach when she was already a granny showing that it is never too late to start yoga. She loves to share her passion and the transformation it has made in her own life.
Andrea is qualified to teach Ashtanga (200 hr), the Rocket (300 hr), yin and alignment based Vinyasa flow. She is certified by Jason Crandell (500 hour advanced training) in anatomy, injury management and sequencing. She is registered as a level 3 teaching practitioner with CIMPSA (the Chartered Institute of the Management of Sport and Physical Activity).
Andrea teaches the person not the pose. Her favourite way to teach is working with clients 1:1 in bespoke classes helping you adapt your practice to be comfortable and safe.
Andrea also teaches alignment based flow and modified Ashtanga in small group classes. These open level classes are equally enjoyable for novices and intermediate students with modifications offered to suit the practice to your body's differing daily needs.
Andrea's Yin classes are very popular offering a mix of slow floor based poses, mindfulness meditation and breathing techniques to aid relaxation. The perfect class to provide balance in today's busy world where it's easy to become overloaded.
SERVICES
All Services are taught in a beautiful airy space with high ceilings in Duxford. Easy access off the M11. So much easier to reach than driving into Cambridge. Free on-street parking.

BESPOKE PRIVATE YOGA LESSONS
The ultimate in yoga instruction: a class designed especially for you to meet your needs, level of practice and lifestyle. Lessons are arranged to fit your schedule - ideal for busy people who can't get to the gym.

• Practice in private - no need to worry about what other people think.
• Work at your own pace – no worries about following a class.
• Be focused – no distraction of other students
• Personalise your practice - If you have an old injury or health concern 1:1 classes can help you modify poses to assist rehab.

SMALL GROUP CLASSES
Fridays 12:30
A 60 minute class of preparatory poses, followed by flow - moving to the rhythm of your breath. The class closes with 10 minutes deep relaxation and breath techniques to leave you feeling wonderful.

BOUTIQUE SHORT COURSES

A range of 4 week courses designed to target common problems:
Yoga to relieve Stress
Yoga Basics
Yoga to relieve back pain and tech neck.

Yoga to Relieve Stress
We all face the stress and strain of busy modern lifestyles: rising expectations; juggling conflicting priorities. This course is for everybody. Learn how to unwind and deeply relax, promoting inner calm. Take away skills that you can practice at work and at home.
• Slow paced yoga: mainly floor based, not requiring strength or flexibility.
• Learn how to release strain in common problem areas: jaw, scalp, shoulders.
• Understand techniques to self-regulate when you feel stressed or anxious.
• Discover how to breathe optimally for good physical and mental health.
• Bring your nervous system into balance improving emotional wellbeing.

YOGA BASICS
A course for complete beginners or those with little yoga experience. Practice in the supportive environment of a small group with individual attention and instruction.
Understand and practice the yoga breath.
Discover how to co-ordinate breath and movement.
Learn the most common standing poses.
Be introduced to postural alignment.

YOGA TO RELIEVE BACK PAIN AND TECH NECK
Modern life often means too much sitting and driving and poor posture leading to weak back muscles, stiffness and pain. This mini course is exactly what you need.
Guided relaxation exercises to release muscle and mental tension.
Gentle repetitive movements working the 5 movements of the spine.
Stretches for the neck and shoulders promoting greater mobility.
Strengthening for the upper back to counter overuse of the lumbar spine.
Contact
Individual lessons designed especially to meet your needs. Available either as one off lessons or book a recurring slot to suit your diary and master your skills through consistency.

Small group yoga lessons can also be arranged if you have a group of friends or work colleagues who would like to practice together.

Breathing, relaxation, mobility, yin yoga and mindfulness lessons to help you reduce stress, lessen pain or cope better with challenging situations are offered on an individual basis.

If you have any queries or want to discuss whether yoga is right for you, please email me at ajhill01@icloud.com
Alternatively, fill out the form below and I will respond as soon as I can. You can also contact me via my business page on facebook or instagram by clicking either logo below.
Thank you
Thank you for getting in touch. I am usually teaching throughout the day however I will respond as soon as I can.