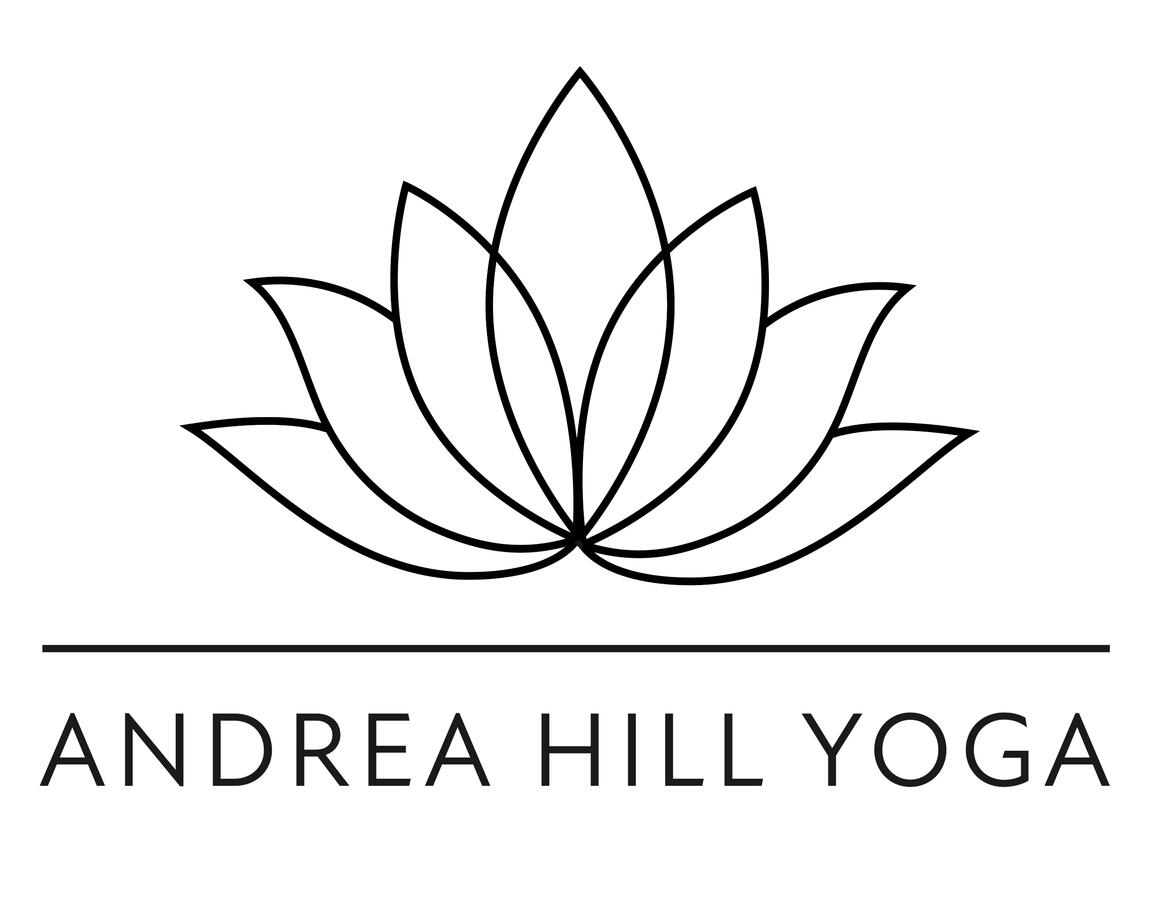 I teach personalised individual lessons, short courses and small groups in my beautiful home studio, as well as a range of classes in clubs in Cambridge.
Everything from dynamic flow to restorative yoga. I help you learn whilst you have fun. I work with complete beginners; experienced students and companies.
I also offer retreats in beautiful locations in Italy for the perfect get away to life's stresses.
---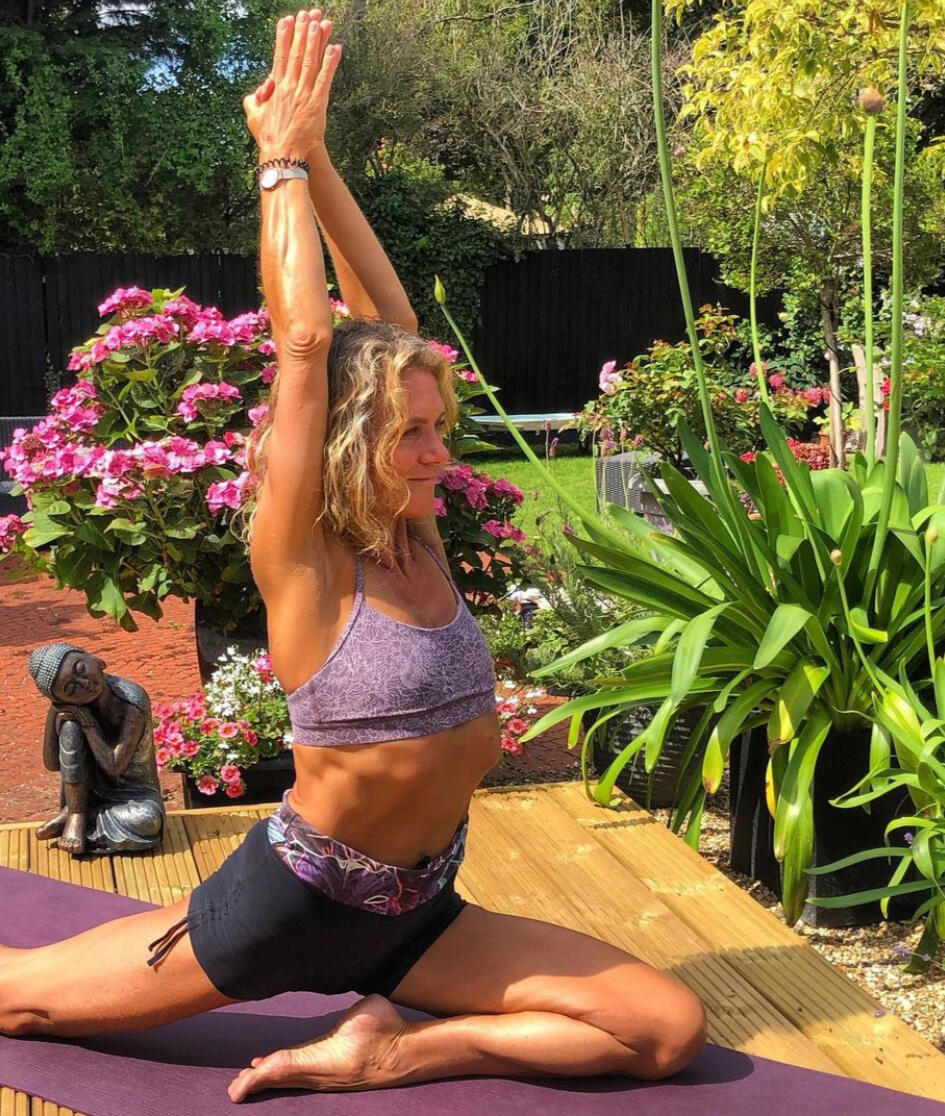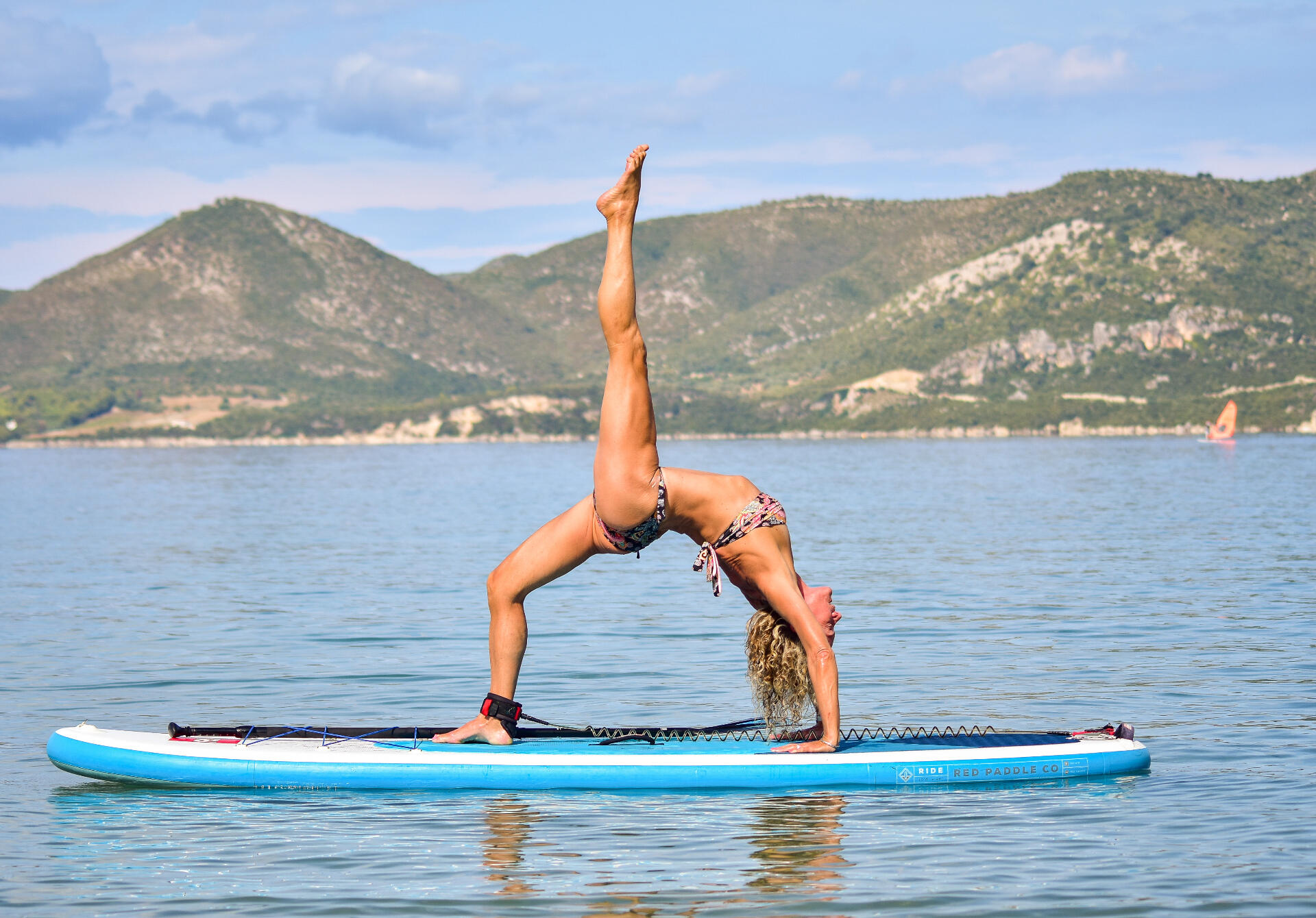 about
I learned to teach yoga when she was already a granny proving it's never too late to start. I started yoga after a broken knee left me in chronic pain and unable to walk easily. That's why I so enjoy helping clients with injury rehab. With regular practice and good teaching, yoga can transform your life as it has mine.
I am registered with Yoga Alliance as an Experienced, Senior Yoga Teacher (EYRT500) - this is the highest professional registration available.
i'm qualified to teach Ashtanga (200 hr), the Rocket (300 hr), Yin and Vinyasa flow. Certified by Jason Crandell (500 hr) in anatomy, injury management and alignment based sequencing.
My favourite way to teach is working with clients 1:1 in bespoke lessons, using a yoga therapy approach to help with aches and pains.
As I teach a wide range of styles: there is something suitable for everyone. Everything from more gymnastic practices to restorative yoga focused on deep relaxation and releasing stress held in the body.
Services
All services are taught in a beautiful converted barn with 5 meter high ceilings in Duxford, Cambridge.
Bespoke
private
lessons
Designed specifically for you to meet your needs, level of practice and lifestyle. Great for those looking for specific attention.
---
---
Vinyasa
group
classes
Preparatory poses, followed by flow - moving to the rhythm of your breath.
1 hour every Friday.
Yoga
fundamentals
course
Ideal for those who may have practised for a while but want time to understand how poses should feel.
---
---
Stress
relief
course
Yoga and other techniques focussed on relieving and managing stress. A course for everyone.
bespoke private lessons
The ultimate in yoga instruction: a class designed especially for you to meet your needs, level of practice and lifestyle. Lessons are arranged to fit your schedule - ideal for busy people who can't get to the gym.
• Practice in private - no need to worry about what other people think.
• Work at your own pace – no worries about following a class.
• Be focused – no distraction of other students
• Personalise your practice - If you have an old injury or health concern 1:1 classes can help you modify poses to assist rehab.
Vinyasa group classes
Fridays 12:30A 60 minute class of preparatory poses, followed by flow - moving to the rhythm of your breath. A themed choreography every month designed to tone and strengthen different muscle groups.
The class closes with relaxation and breath techniques to leave you feeling wonderful.
Sign up for a whole month or drop in on a weekly basis.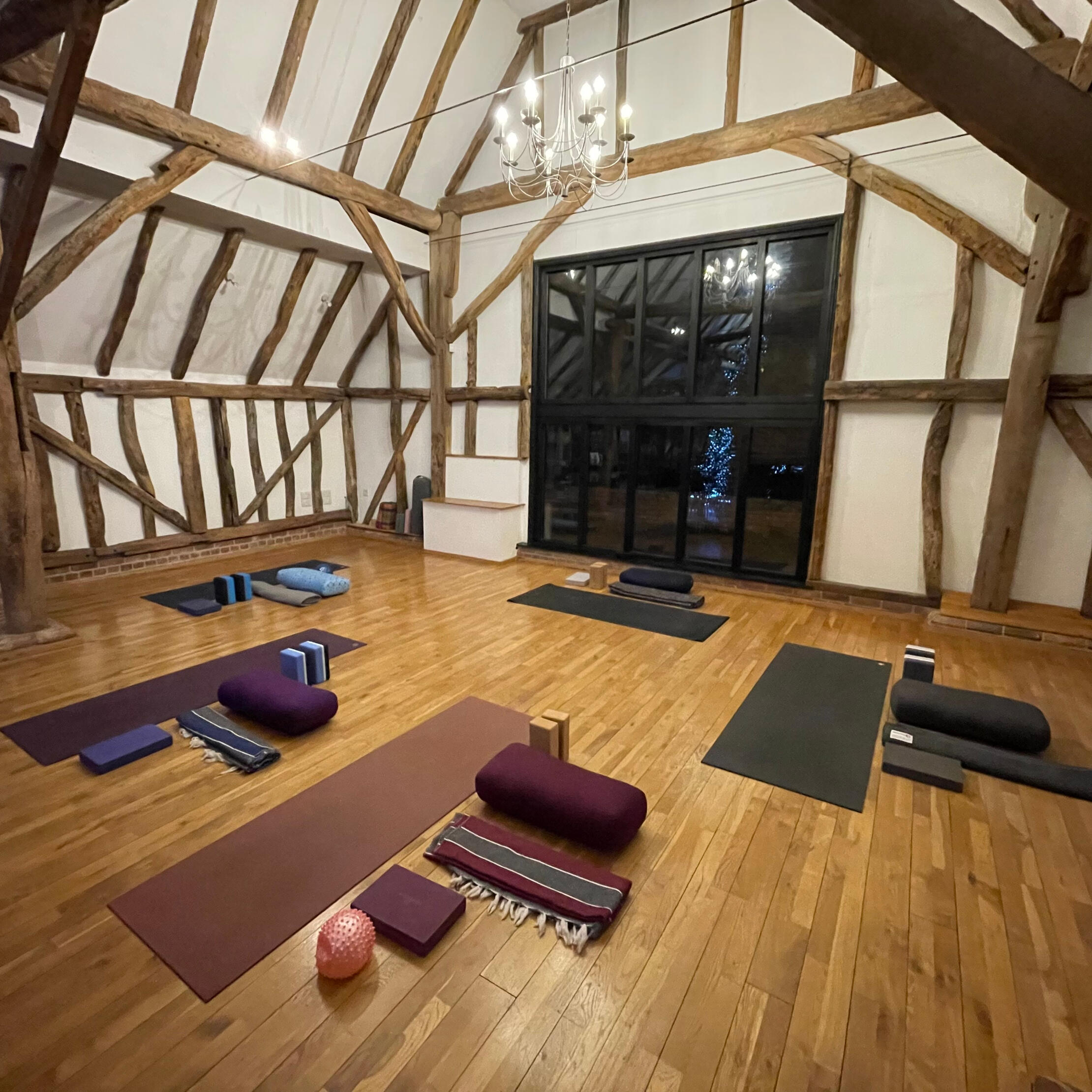 Yoga fundamentals course
Designed especially for those who want to understand the poses better.
This course focuses on alignment and correct muscle engagement: it tells you how to do a pose.
Learn the breath that makes yoga so calming. Learn how to perform poses with more ease.
Ideal for those who may have practised for a while but want time to understand how poses should feel.
If you've taken a group class and can keep up or feel confused, this is the course for you.
Also suitable for active people who want to try yoga for the first time and have no idea where to start.
A great way to get back into practising if you've fallen out of the habit.
Corporate Wellness Programme
FOR EMPLOYEES
Modern desk work is creating muscular skeletal injuries and stress held in the body as tension. Yoga can help increase organisational performance as part of your corporate wellness offering.
I work with organisations to provide group sessions via Zoom, Microsoft Teams or in person. Targeted to meet your workforce's needs. Gentle movement to relieve lower back pain, tense shoulders and tech neck; mindfulness exercises to help focus; breathing exercises to relieve stress.FOR EXECUTIVES
A personalised programme for senior executives delivered with the understanding of what it is like to have lived that life.
Thoroughly practical and totally confidential.
Giving busy people help with: improving breathing; mental clarity; reducing stress; reducing blood pressure; improving sleep; helping good digestion; releasing muscular strain; restoring resilience and bringing your nervous system back into balance.
Feel grounded in a turbulent world.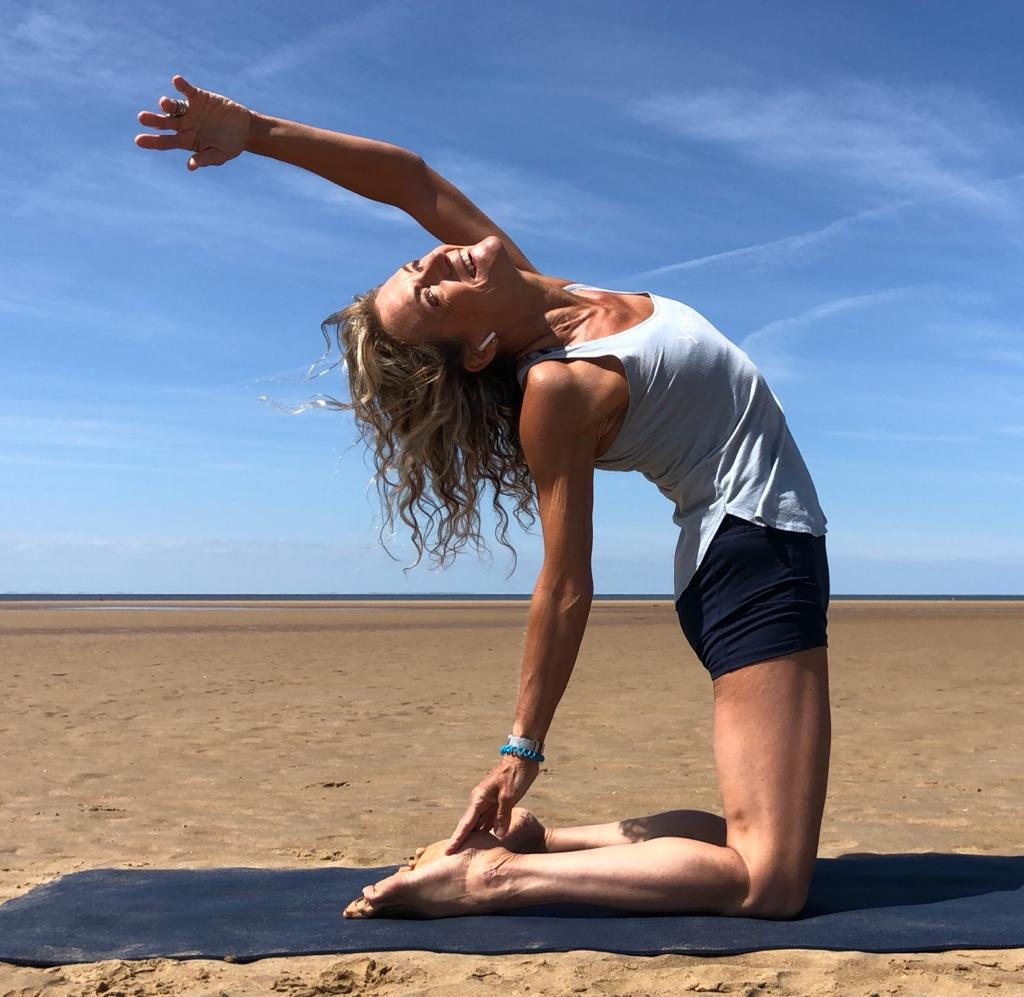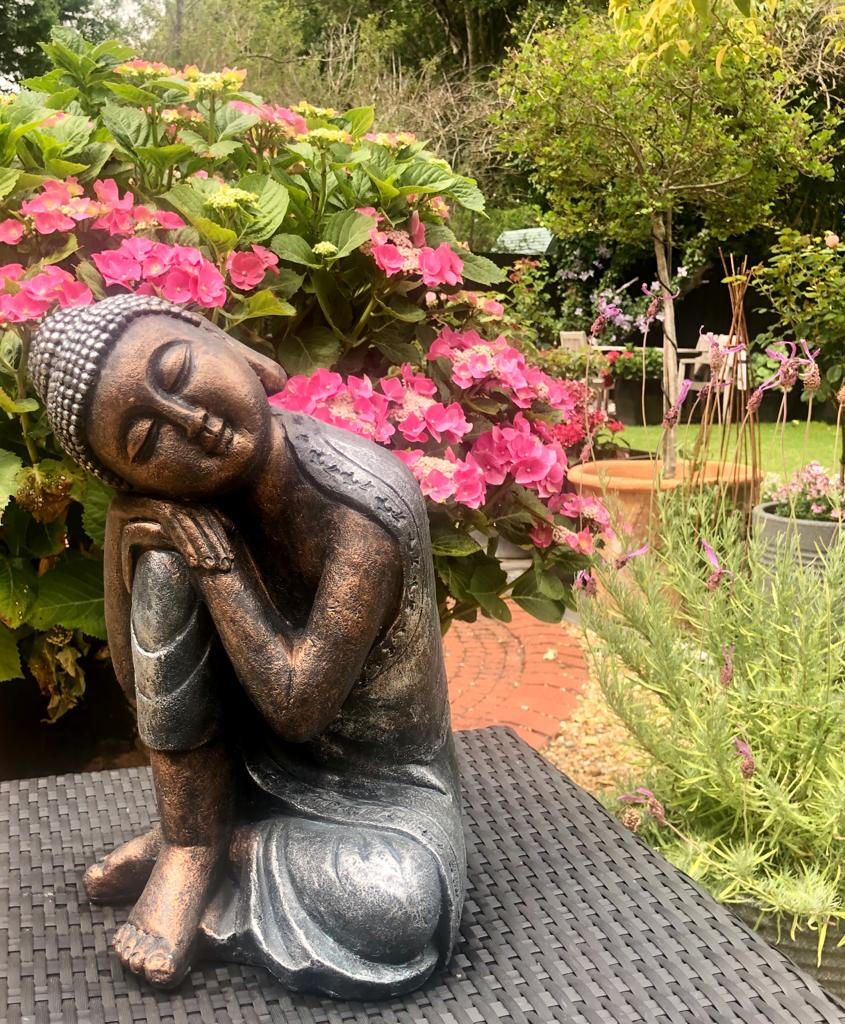 Stress reflief course
We all face the stress and strain of busy modern lifestyles: rising expectations; juggling conflicting priorities. This course is for everybody. Learn how to unwind and deeply relax, promoting inner calm. Take away skills that you can practice at work and at home.
Slow paced yoga: mainly floor based, not requiring strength or flexibility.
• Learn how to release strain in common problem areas: jaw, scalp, shoulders.
• Understand techniques to self-regulate when you feel stressed or anxious.
• Discover how to breathe optimally for good physical and mental health.
• Bring your nervous system into balance improving emotional wellbeing.
Yoga for men
These days yoga is part of complementary training for top class athletes – think Lionel Messi, Andy Murray, The NZ All Blacks rugby team, Jenson Button F1 racing driver and David Beckham. Many male celebrities also attribute their physical and mental wellbeing to yoga: Sting; Russell Brand; Robert Downey Jr; Orlando Bloom; Justin Timberlake; Matthew McConaughey and Jon Bon Jovi. Yoga is definitely for men.My classes are enjoyable, functional and teach you to feel better. In a group class you'll meet people like you. It won't be too hard and I'll be on hand to encourage and help you. I design classes that men find more accessible and less frustrating. Get in contact to find out more!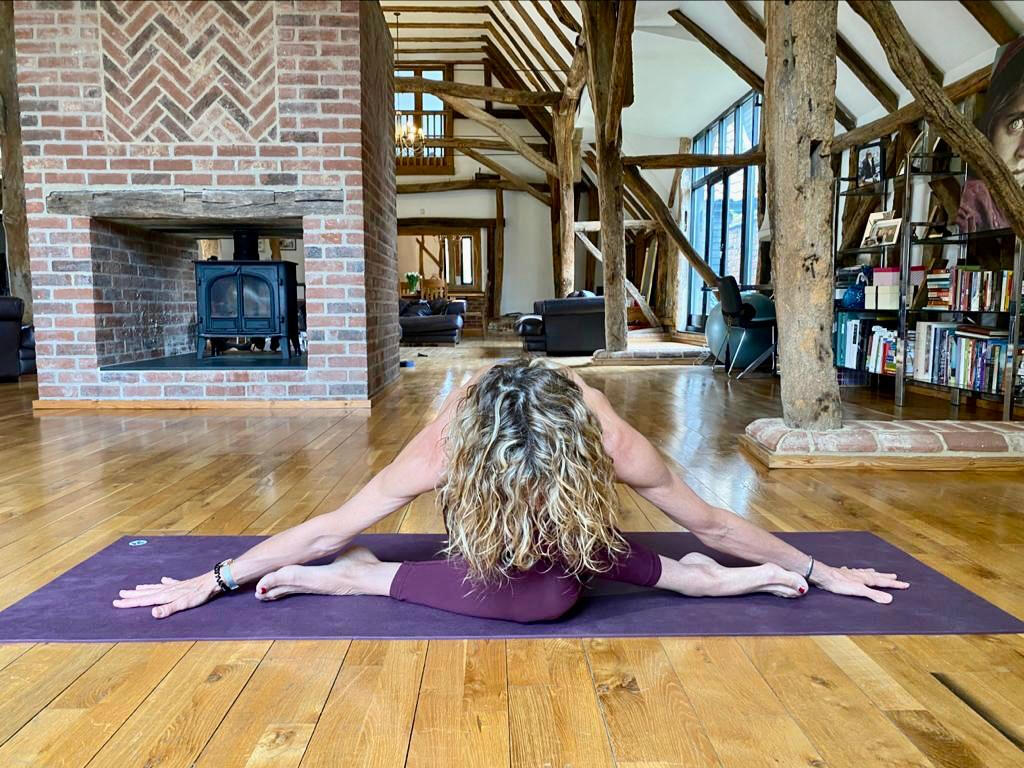 To retreat is to get perspective on your life and what really makes you happy. Experience the joy of rediscovering yourself.There is nothing quite as nourishing for your mind, body and soul than a week of yoga, healthy food, being immersed in nature, fresh air, sunshine, time to breathe and deep sleep.
Feel lighter, calmer and restored.
Choose to be happy, rediscover your inner child: come retreat with me.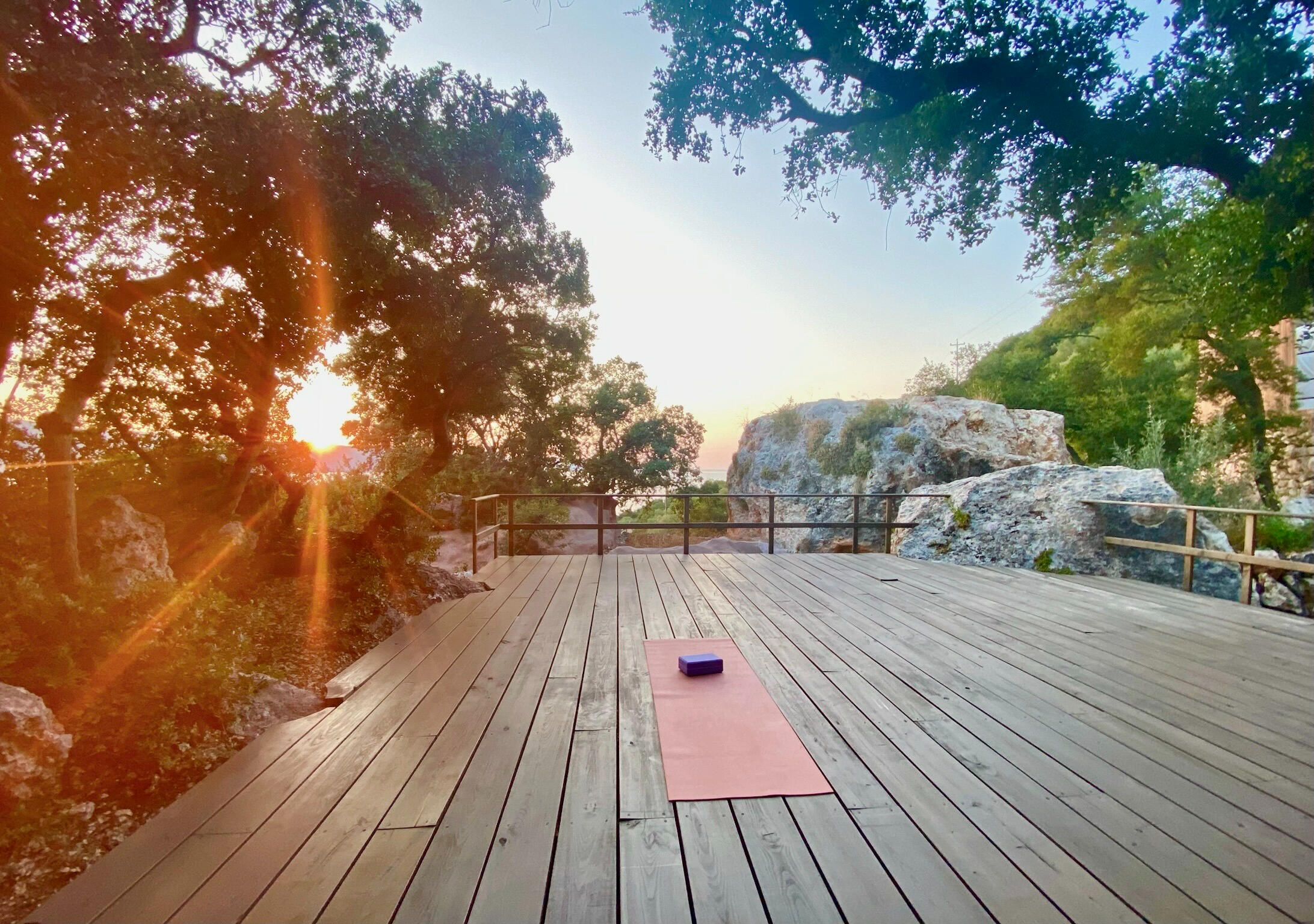 CURRENT RETREAT
SICILY, ITALY | 24th June - 1st July 2023
Welcome to my Sicilian retreat. A blend of the things I love: yoga, nature and Italian culture. I retreated here myself in 2017 and loved it. This retreat will be an opportunity to celebrate summer. June will be warm, sunny and dry. Enjoy long days of light and al fresco dining under the stars.Many of us work towards our next holiday when we might finally rest only to find our holidays are not truly fulfilling. Maybe we cram in too much. We over eat, drink too much, move too little and end up lethargic. Retreating is different. When was the last time you felt truly refreshed. When did you give yourself time to breathe, to experience peace and re-balance. Getting distance from our daily dramas and placing ourselves in a quiet, nurturing environment, we can recalibrate.Be a beautiful person, in a beautiful place, doing a beautiful thing.WHAT TO EXPECT
• 7 nights accommodation in a shared twin room or a double room in a dedicated yoga retreat centre.
• 20 delicious vegetarian/pescatarian meals: brunch and dinner. Teas, coffee and fruit available all day.
• Yoga held in an internal yoga studio or outside on the yoga platform. Props supplied.
• Social activities programme: wine tasting in a local vinery; boat trip along the coast; hiking in a nature reserve; Sound Bath.
GETTING THERE
• Ryanair fly from Stansted to Catania. I recommend hiring a car to see the island. Sharing a hire car is ideal. Airport transfers can be arranged.
PRICES
• Early bird prices £1,390 based on 2 sharing a room. £1,690 in a double room for sole occupancy. Not included: flights, car hire, wine at dinner, travel insurance.
The Location.For this retreat I've chosen South Eastern Sicily. Home to world heritage sites, Baroque architecture, and some of the most beautiful beaches: white sand, rocky coves and an unspoilt crystal clear sea. This is the Italian island of your dreams.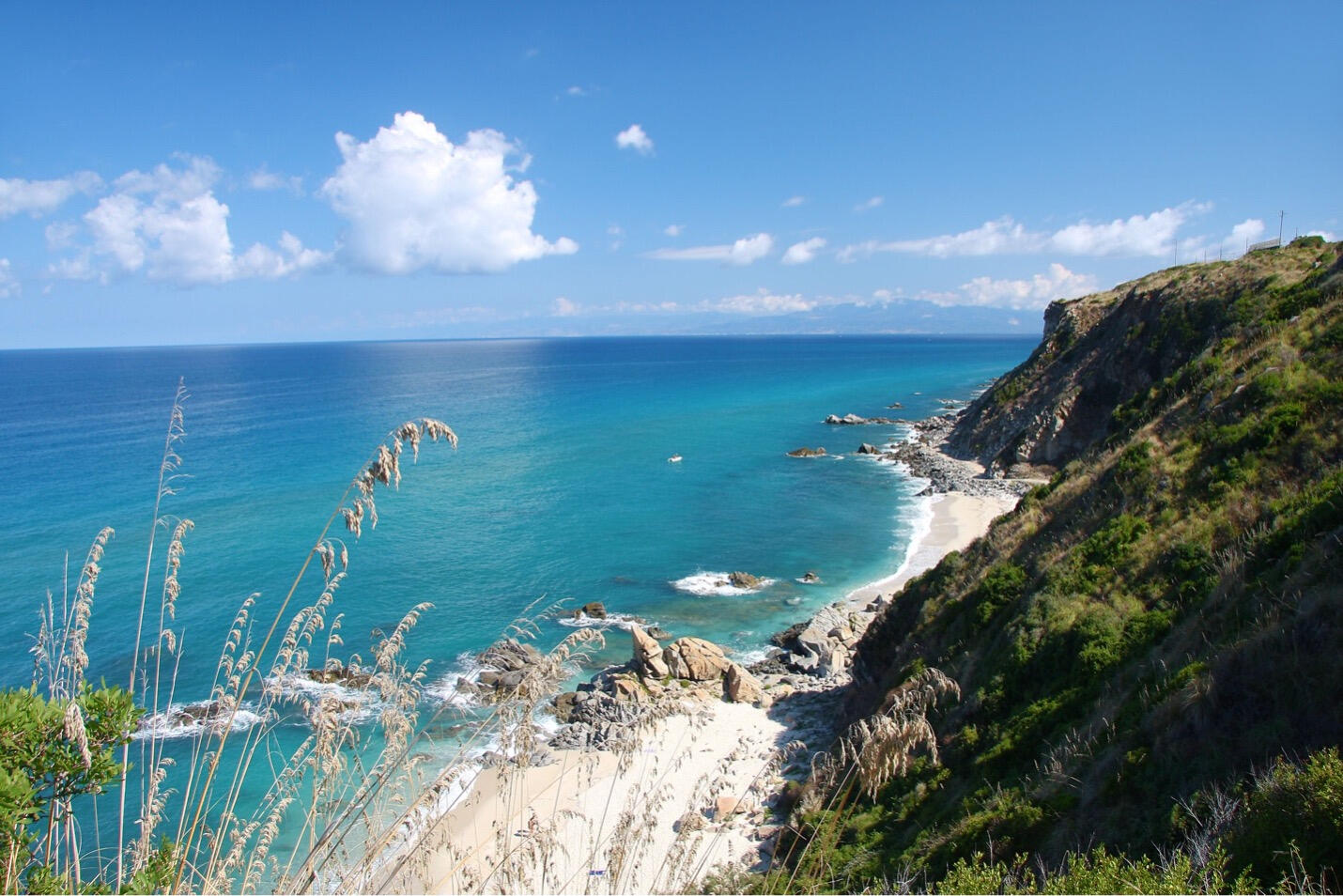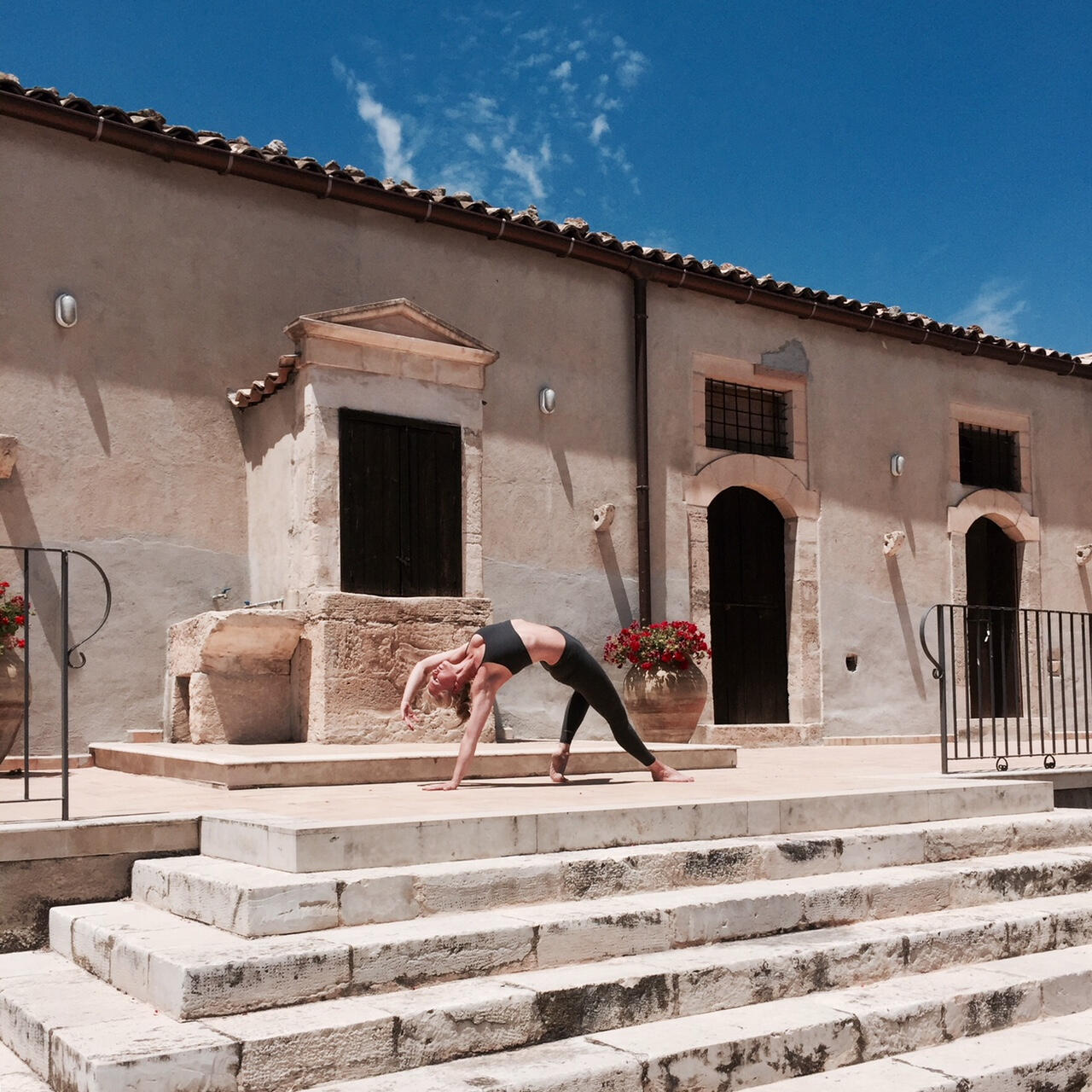 The Venue.Welcome to Danena, a 19th century farmhouse converted into an idyllic retreat centre. We will have the entire property for our sole use throughout the week. Located amongst 80 acres of farmland, in an oasis of green with views across olive groves and almond trees. This is a place to get away from it all.
The Rooms.Bedrooms are a mix of twin beds or double beds, most with en-suite bathrooms. Five rooms have shared bathrooms. Each room is decorated individually in Italian style. Some rooms are shared apartments with their own outdoor patios and indoor living areas - ideal for friends.
Rooms can be booked for single occupancy for a supplement if you're travelling alone or prefer not to share.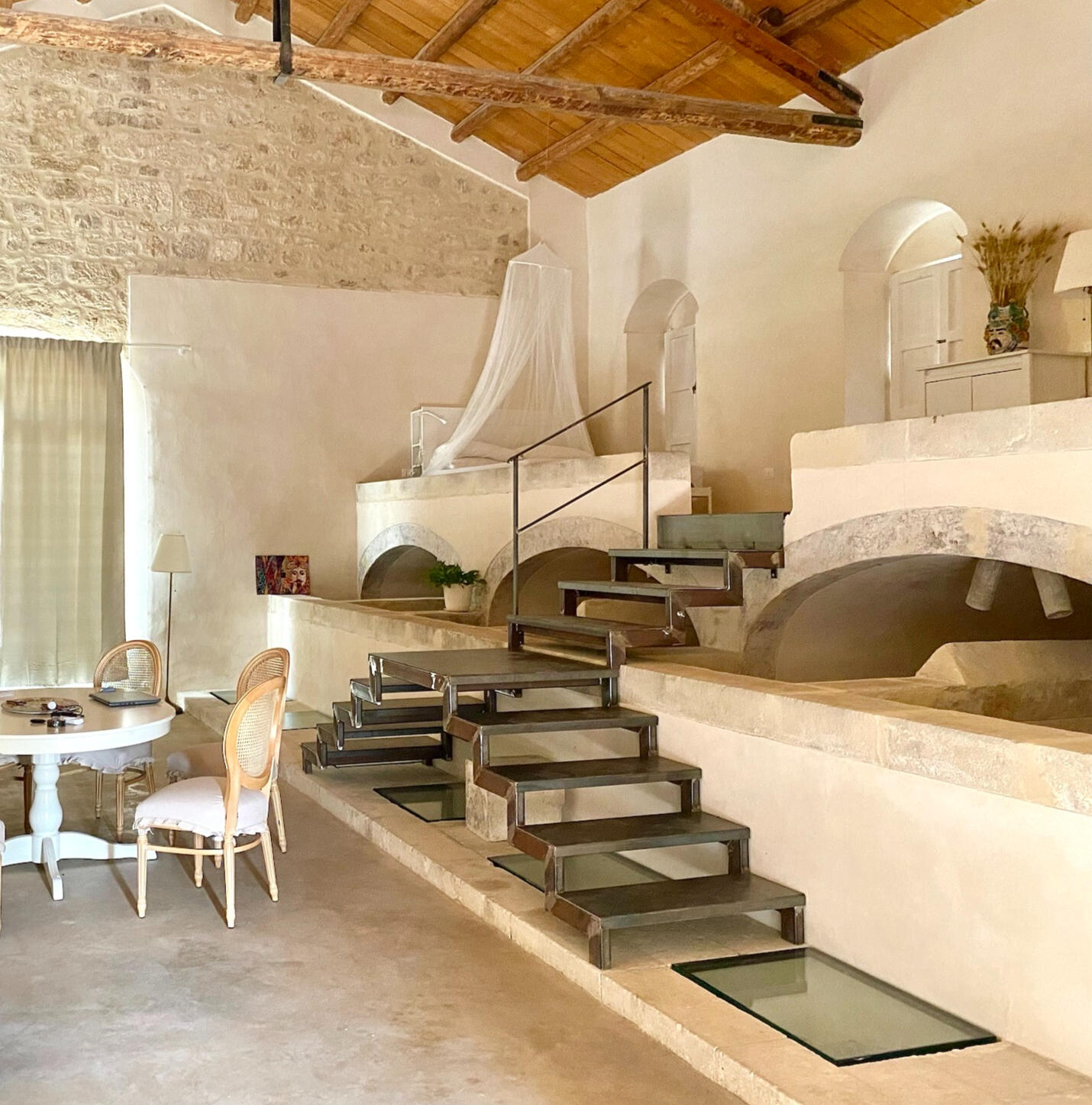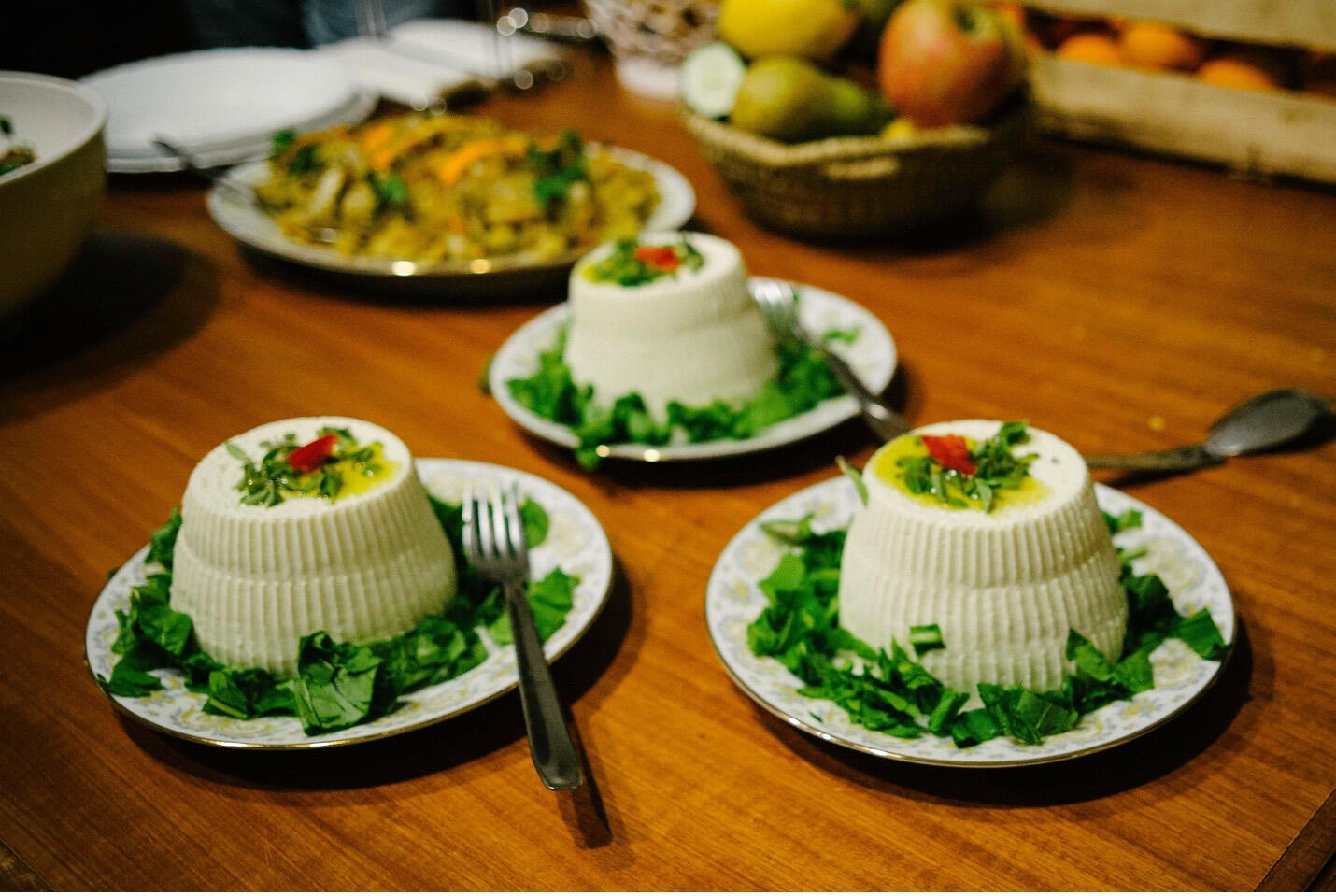 The Food.Nourishing vegetarian food prepared from the freshest local produce. Expect farm-made ricotta, the sweetest tomatoes, breads, eggs and olive oil, plant based main dishes and some local fish. Meals will be taken outdoors together to create and deepen friendships. Two meals daily: brunch and an evening meal. Fruit, teas and water always available - just help yourself. Vegan diets can be catered for.
The Yoga.All the sessions are optional: do as much or as little as you like. You decide. Sessions will typically be divided into 3 classes so you can choose to omit the more dynamic practices.
We'll practice in an inside dedicated space and outside on the yoga platform when it's not too hot. Mats and props are provided, so you can just show up, but if you're wedded to your mat, bring your own.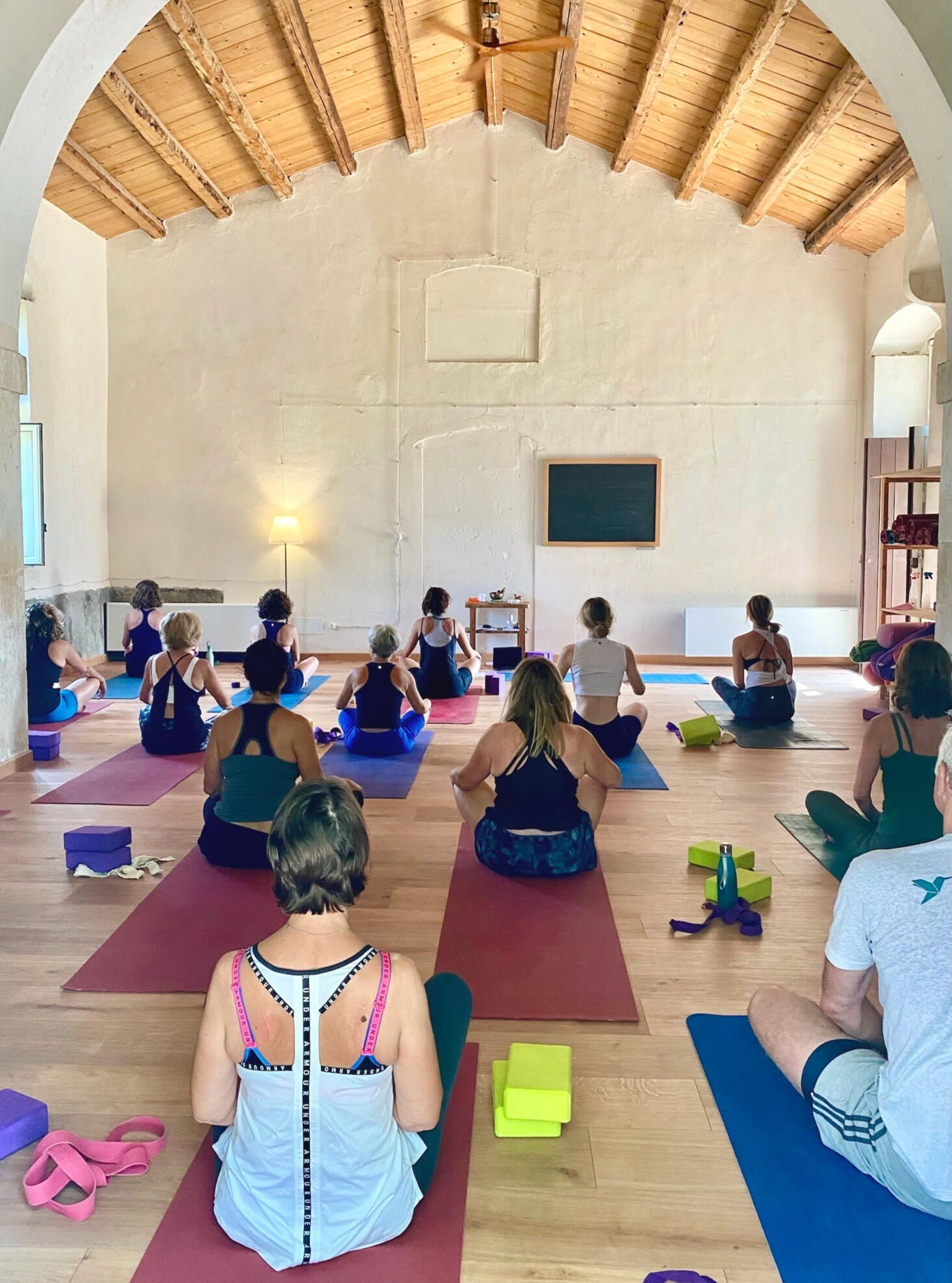 The Schedule.The final schedule will be designed to suit those who book. To give you a feel, you can expect Morning yoga will be a mix of Ashtanga or choreographed vinyasa. Some mornings we will still our minds with meditation and awaken our bodies with more gentle stretching. Afternoon practices will be more chilled in order to wind down from the day with some yang & yin, restorative yoga and yoga Nidra.
The Socialising.Our activities mix the best of Italian culture with the beauty of our location. There will be afternoon free time to relax, be quiet, read a book or swim in the infinity pool. One day we may hike as a group in the Vendicari Nature Reserve. Mid-week we'll take a boat trip along the coast, stopping at secluded coves for swimming. Italy is famous for its wine, so we'll also enjoy an evening wine tasting at an organic local vinery.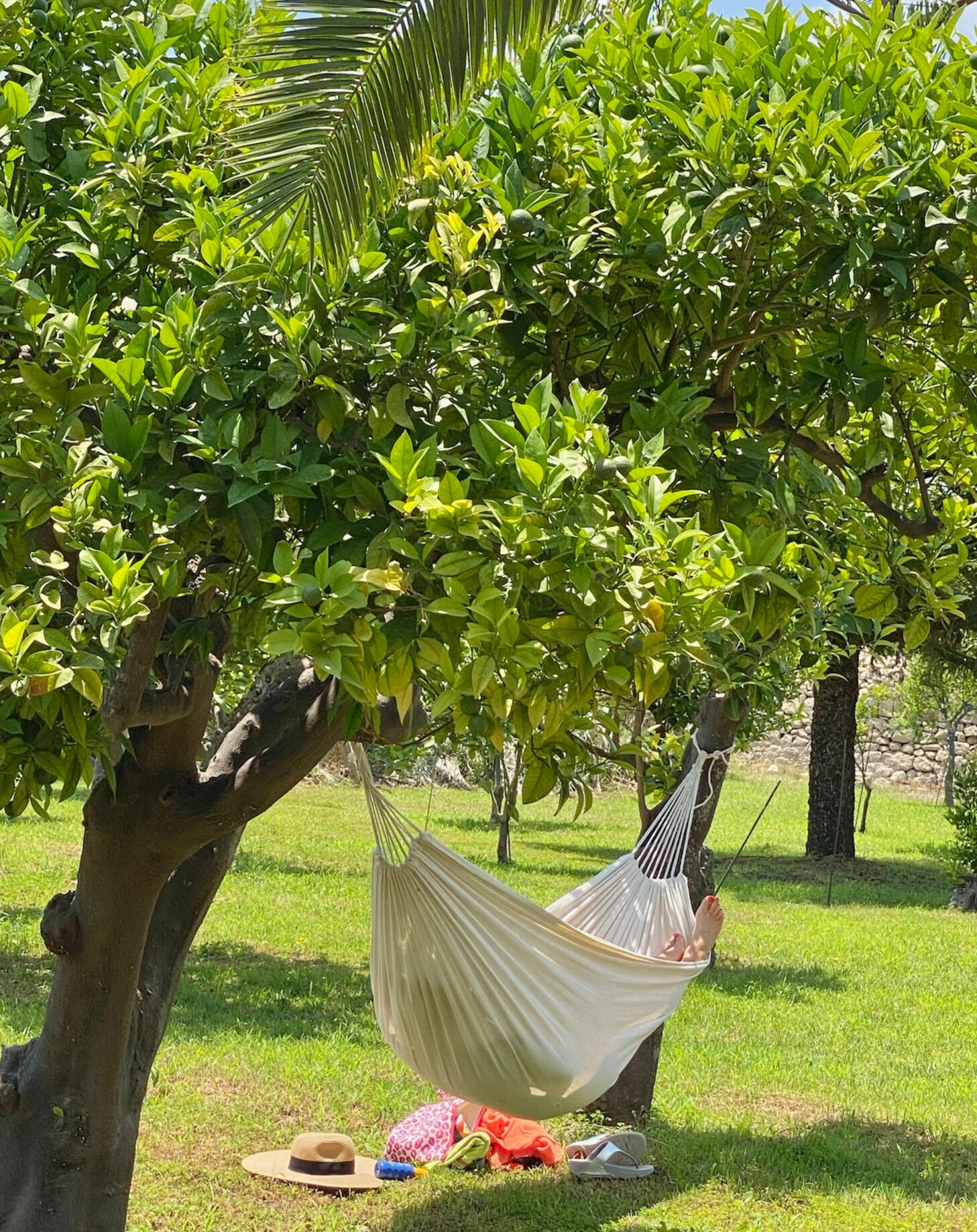 Louise Mitchell : Stress Relief Course
"Andrea creates a safe and secure Yoga practice learning space as she expertly guides us through new movements with an eye to each individual and their own needs, throughout."
---
Claire Curran : Stress Relief Course
"I struggled with sciatica for over two months, so I joined the stress relief course. I needed to find some way to relax. This was perfect: it provides a very quiet, relaxing and peaceful environment. I felt safe doing the poses as the props Andrea gave, really supported my back. It allowed me to stretch and relax at the same time and alleviated the pressure on my lower back.As a newcomer to yoga, the small class worked well for me: Andrea paid individual attention to everyone. She ensure dI was comfortable and in the correct positions. It was like escaping into another world for an hour. "
---
SUSANNAH CLEMENTS : vinyasa group classes
"I have wanted to learn yoga for years – but always got put off by the stretchy Lycra clad crew who always seem to know what they are doing whilst I struggled to even work out where my toes were. Going to Andrea's classes has been the perfect antidote to that. She's clear and has this brilliant way of describing what to do and how it should feel. She also offers a great balance between the inner benefits of yoga and the physical movements involved."
---
jonathan Hinde : vinyasa group classes
"What matters most is the person who teaches the class. Andrea is an exceptional teacher for so many reasons but these are the two that stand out for me: First of all she really understands the mechanics of the body. The second thing is that she really commits in a personal way to the development of everyone who comes to her classes. We all feel cherished, and our achievements become her achievements."
---
james clissold : Yoga Fundamentals
"I'm really pleased that I found Andrea and her lovely studio to help me get started. I am only a beginner (I've been going for around one month) but Andrea helped me to feel at ease straight away whilst providing clear instructions to ensure I follow proper technique."
---
Julia Cooper : yoga fundamentals
"I'm new to practising yoga because I thought my mid-fifties body was too stiff, I'm a little overweight and my balance was shocking. Then I completed an online beginner course and was hooked! Andrea is an expert teacher, very knowledgeable, calm and her directions are clear and precise so you're not looking up to check you're doing the right thing, which I had to do completing my online course with a different instructor."
---
Nigel Standing : Yoga for men
"Andrea is just a wonderful Yoga teacher, such great detail, great insight and makes the practices so enjoyable. She stresses to everyone there is no competition, no judgement which really makes everyone relax whilst they practice on their mat. She guides us all along the Yoga journey in such a caring way."
---
Luca Dusi : Yoga for men
"I really wanted to get into yoga as I train a lot and play football and found myself getting little injuries and tightness in my legs. A few people said how beneficial Yoga is and I should give it a go. I'd been meaning to do yoga for a while but never got round to it. Then I met Andrea. I asked her for private lessons as I hadn't previously ever done yoga and wanted to gain confidence before joining a group class. I just wanted to strengthen certain muscles and loosen up and stretch out others, but I was surprised how much there is in yoga - the breathing techniques and stretches. If I'm honest, I was surprised with it all - in a good way.Andrea is a great teacher, she tailors it to your ability. Her knowledge is second to none and she makes the session enjoyable."
---
Neil Bailey : yoga for men
"I started studying with Andrea around 5 years ago. I wanted to improve my flexibility as I was getting older and was starting to struggle with injuries when playing sports but also wanted something to try relieve stress in my job. I have taken various classes over the years including some yoga classes and Andrea is different to the others teachers I have had. She will challenge you to perform the poses with the correct form rather than just demonstrating and leaving you to your own devices."
---
Christoper Bow : bespoke private lessons
"When I decided to try yoga for the first time, I was a little concerned about how I, as a man in his mid-sixties, only moderately fit and certainly not very flexible, would manage. Would I be embarrassed and intimidated by the far more capable people I was likely to encounter? Would I actually be able to achieve anything worthwhile?Well, I needn't have worried. Andrea has proved to be an excellent teacher, not just because of her technical skills, but in the way she treats everyone with great empathy. She clearly understands what I find difficult and why, and she always has something constructive and encouraging to say."
---
Carl lygo : bespoke private lessons
"I was advised by my Doctor to give yoga a try. I'm the classic mid 50s man who walks a lot with my dog but, sit sat a desk most of the day. I have been carrying aches and pains in my back and legs. I have been doing 1:1 classes with Andrea on Zoom. My sleep has increased by over 1 hour per night. By the third month I'd totally lost the back and leg pains. I cannot remember the time when I jumped out of bed without feeling some ache or pain but now I have no pains at all.At first I was a bit concerned because I am not very flexible or supple. Andrea quickly put my mind at ease, she is very kind, encouraging and supportive. It feels to me that the classes are adapted for my ability so I get the benefit without being treated like an elite athlete or contortionist. I really enjoy our weekly class and often end up laughing at some of the poses I end up in. It really is worth giving it a go and see where it leads you. I could not have hoped for a better teacher to introduce me to yoga."
---
Phil Gormley : bespoke private lessons
"Andrea is a superb instructor, as a late middle aged novice to yoga I found her thoughtful, empathetic and encouraging. She recognised what I wanted to achieve and my self-defined limitations helping me develop a better understanding of how to improve physically and mentally. I would recommend her approach to anyone particularly those put off by the thought of large impersonal classes!!"
---
Vicky Sloane, Head of wellness, anglian water. Corporate wellness
"Andrea has supported Anglian Water with 3 different programmes including our biggest ever set of online wellbeing events during the pandemic (January and February 2021). Over 3000 staff joined the events across the four weeks and feedback from Andrea's yoga sessions was phenomenal.In 2022 our workforce reported increased issues with musculoskeletal health and stress. We asked Andrea to help. Her mindfulness and relaxation sessions offered a great solution. Andrea was so easy to work with. She was keen to understand the challenges we were facing and adapt a programme to the needs of our people.I took part in one of Andrea's sessions and really benefited from it both mentally and physically. By recording the session our staff who are scheduled or shift based were able to watch it at a time in their day that suited them – many people have watched it since."
Get in contact
If you have any queries or want to discuss whether yoga is right for you, please email me using the form below and I will respond as soon as I can.Have a look at my services page to give you a sense of see what I already offer but do let me know if you have any bespoke needs as there is lots of help I can offer.I look forward to hearing from you.
---
Booking enquiry
Please use the form below to make a booking enquiry or ask any questions that you may have.If what you require isn't listed on my services page then please do describe what you are looking for below and I'll be sure to reply to you as soon as I can.I look forward to hearing from you.
---
Thank you
Thank you for getting in touch. I am usually teaching throughout the day however I will respond as soon as I can.
My blog posts
I regularly write about a whole host of topics that I find interesting, and I think you might too.
If you like what you see then subscribe to my newsletter for future articles, free content and other tips and tricks.